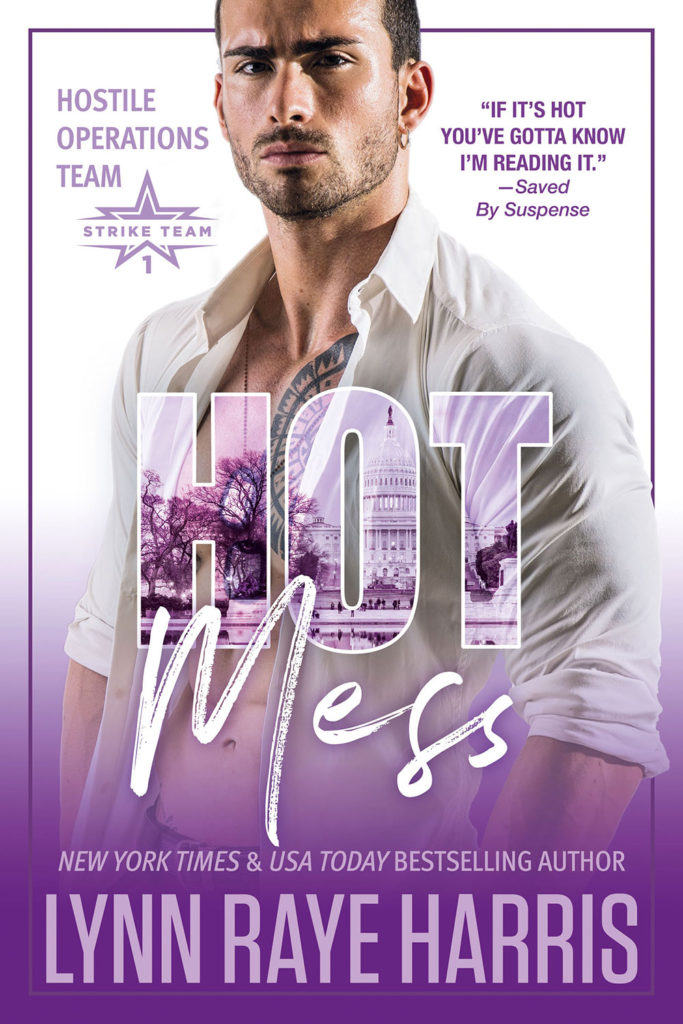 Order Book for/from:

HOT Mess
Sam & Georgie
H.O.T. Strike Team 1, Book 2
English professor Dr. Georgeanne Hayes is recovering from a divorce and forging a new life in Washington, DC. She's lonely, but she'd rather be lonely than miserable. She keeps busy teaching college courses to military students and assuring her family back in Texas that she's perfectly fine. But when she asks a few too many questions about a missing student, someone tries to push her in front of a Metro train beneath the Pentagon.
Sam "Knight Rider" McKnight is new to the Hostile Operations Team. When he finds out Georgie Hayes lives in DC now, he goes to see her. When they were kids, she was his best friend's baby sister. When she was eighteen, he nearly took what she offered—but he stopped before it was too late. Sam hasn't seen Georgie in six years. But now he can't seem to stop the very male—and very dirty—thoughts about the woman he can never have.
When someone threatens Georgie's life, she turns to Sam for help. He'll do anything necessary to keep her sheltered, even if it means spending the next few days locked up together in a remote safe house. Sam might be used to denying himself what he wants, but he's about to find out that being cooped up with Georgie will push him to the limit. And maybe beyond. Because Georgie is all grown up now, and she knows what she wants. She's known for years—and this time she isn't taking no for an answer.
Read an Excerpt
The car ride was silent. Or would have been if not for the incessant meowing of Georgie's cat.
"You know something, Sam?" Georgie said, and he started at the sound of her voice breaking into his thoughts when the cat had almost become white noise to him.
He shot her a glance. "What?"
"Maybe I don't want you to be good. Maybe I want you to be as bad as you can be."
Sam gripped the wheel of his truck and stared straight ahead. Jesus. "Don't say shit like that to me, Georgie. You know I'm not going there."
She snorted. "Boy, do I."
"Georgie—"
"No, don't you Georgie me. When you stopped that night…" He could feel her looking at him, her eyes boring an angry hole into him. He told himself she was reacting to everything that had happened to her today and taking it out on him. This wasn't really about something that had happened twelve years ago. It was just a convenient catalyst.
"When you stopped that night, I thought there was something wrong with me. I thought I wasn't sexy enough or special enough for you. And that hurt."
"Of course you were," he bit out. "But you're Rick's little sister and I was the wrong guy for a lot of reasons. I stopped because you were special."
"You were the one I wanted."
He swallowed hard. "I couldn't do it, Georgie. I couldn't do it and look Rick in the eye ever again. Or your parents."
She didn't say anything for a long moment. "You know who was my first?"
"Goddamn it, I don't want to know." His voice snapped in the interior of the car. Even the cat went silent. Sam closed his eyes. He did not lose his temper. Not ever. But she made him forget all the vows he'd ever sworn to himself.
Georgie folded her arms over her chest. "Fine. But you know what you need to remember right now? Here it is, so put it front and center in that brain of yours and keep it there. I'm not your sister, and I'm not a kid anymore."
Sam sat there in stony silence, uncertain what in the hell he could possibly say. No, she wasn't his sister. But it was safer for him if he thought of her that way. He wanted to keep her in a safe place in his head, but in the space of a conversation she'd gone and thrown her grappling hook over the walls he'd erected and torn them right down.
She thought he had trouble remembering she wasn't his little sister. No, what he had trouble remembering was that he was no good for her. Because damn if he didn't want her. He wanted her every possible way he could have her.