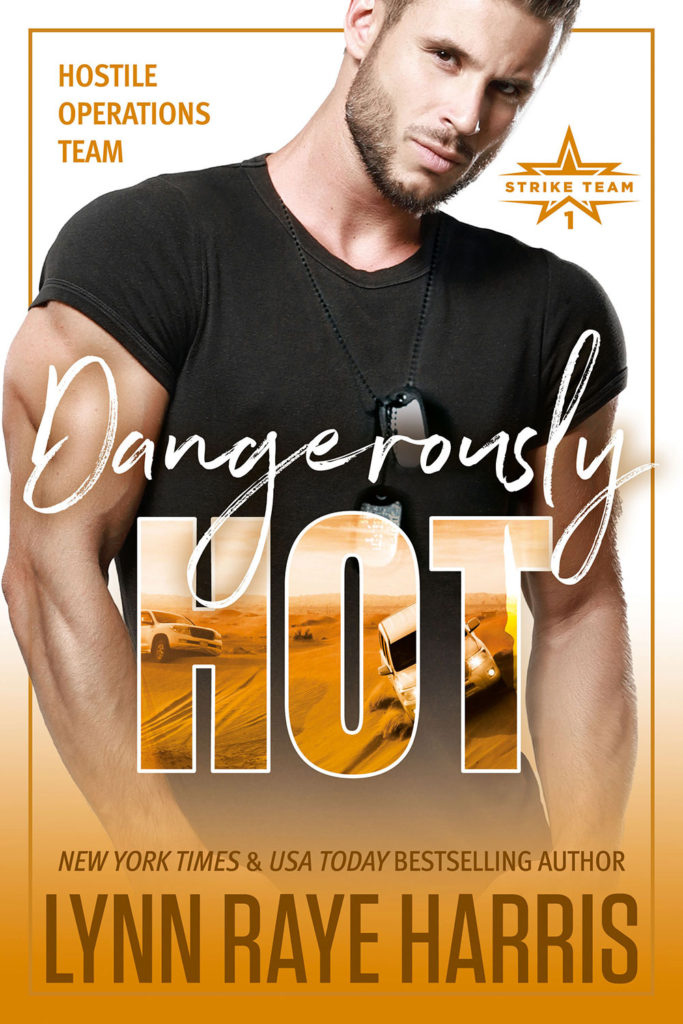 Order Book for/from:

Dangerously HOT
Kev & Lucky
H.O.T. Strike Team 1, Book 3
The world's most wanted man is back from the dead. And only one woman can stop him…
Former Army linguist Lucky San Ramos escaped with her life, but the scars an evil terrorist leader left on her skin are a constant reminder of her captivity. Now her tormentor is back—and so is the sexy Special Operations soldier she once loved.
HOT operator Kevin "Big Mac" MacDonald rescued Lucky the last time. And then he walked away when he couldn't be what she needed. When Lucky married his teammate, Kev knew it was for the best. But now Marco is dead and Lucky is no longer safe.
When Kev and Lucky team up to capture a terrorist, they'll have to pretend to be man and wife on an explosive military mission to a war-torn nation. With time running out and the fate of the world hanging in the balance, Kev and Lucky play a perilous game of cat and mouse with a madman during the day.
But at night, they battle the secrets of the past and the sizzling attraction that threatens to endanger the mission. Lucky shouldn't want the man who abandoned her once before. But the passion between them is sinfully, sensuously, dangerously hot… and proving impossible to resist.
Read an Excerpt
He glanced over at her. Her head was bowed, and she was fiddling with her cell phone. Then she pocketed it and sighed.
"I miss him, but my life isn't over."
He didn't know what to say to that. "No, I know."
"Do you?" She tapped her fingers on the armrest and stared straight ahead. "The closer we get to going on this mission, the more I worry about the things I never did. What if I never get to do them at all?"
A chill slipped down his spine. "That's the beer talking."
She shook her head. "I don't think it is. I think it's a real concern. These next few days could be all I have left."
Kev gripped the wheel tight. Dammit. "I told you I won't let him get you. You're coming back. We're all coming back."
"You can't guarantee that."
Kev whipped the truck into a fast-food parking lot and shoved the gearshift into park before turning to look at her, fury rolling through him. He didn't want to hear her talk that way. He didn't want to hear the fatalistic tone in her voice. It wasn't right.
He'd lost Marco out there. He wasn't about to lose Lucky, and he wouldn't have her talking as if fate had already decided it for her. Her eyes were wide as she stared at him.
"Attitude is everything out there," he grated. "You can't go in with the idea this is the end. You have to be comfortable with yourself, sure, but it doesn't do any good to think this is where you will die. If you think like that, you put us all in danger."
"All right." Her voice was soft. Her eyes slipped over his face, and her throat worked. He had a sudden urge to haul her into his arms. He resisted, but barely.
"Just stop thinking it's over, okay?"
She nodded. "But there are still things I never did. Things I wanted to do. It's not fatalistic to wish I'd had the courage to do them."
He shoved a hand through his hair and growled. "What is it you want to do so bad? You have a few days yet if it's important to you."
The air in the truck grew thick with silence. And then she reached out with trembling fingers and touched his mouth. Her fingers were light, soft, ghosting over his lips so carefully. His blood beat hard in his veins, and his chest grew tight. She was going to drive him insane before this was over.
"I want to be with you."